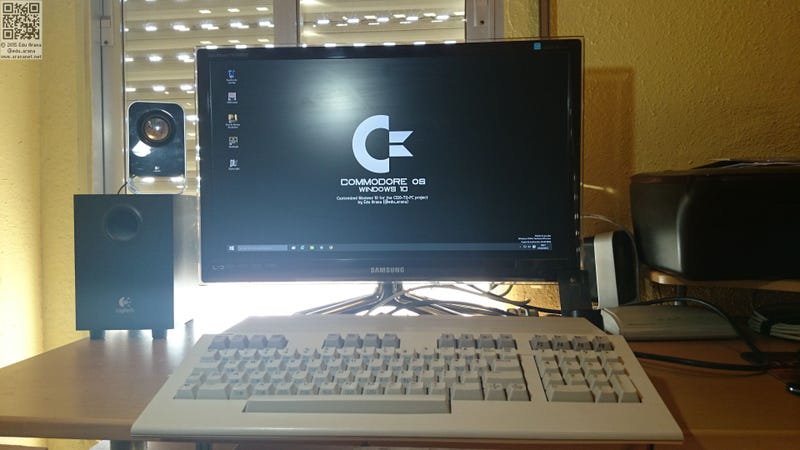 Hola!
Este es mi nuevo proyecto C128 a PC. Hace bastante tiempo que intentaba comenzarlo pero por distintas razones no podía, finalmente me he puesto manos a la obra y lo he terminado :)
El concepto básicamente es reutilizar las carcasas y teclado de una Commodore C128 para construir un ordenador de sobremesa compacto y potente. Le he instalado el nuevo sistema operativo de Microsoft (aún en versión beta) Windows 10 (personalizado con el logo de Commodore en el boot logo / podéis encontrar una guía de como cambiar el logo, aquí! ) y tres videojuegos para medir el rendimiento, Deus Ex Human Revolution, DeadLight y uno de los últimos videojuegos lanzados al mercado Diying Light. También tiene instalado un emulador de Commodore 64 llamado C64 Forever.
¿Looking a English version of this article? Click Here To Translate (using google translator).
Materiales utilizados para este proyecto:
1 Commodore C128 para desguace.
1 Placa adaptadora para convertir el teclado de la C128 a un teclado USB.
1 Placa Base Asrock QC5000-ITX/Wifi + 4GB de Ram + Disco Duro 500GB SATA + Lector DVD Sata + Lector de tarjetas 5-1
1 Fuente de alimentación mini itx interna DC-DC 12V - 12.5a / 150 Watts
1 Fuente de alimentación externa (he utilizado una de Xbox360 y al he adaptado)
Soldador de estaño, componentes varios y multiherramienta tipo Dremel.
Especificaciones técnicas de este ordenador:
Hardware:
Asrock QC5000-ITX/Wifi
CPU: AMD FT3 Kabini A4-5000 Quad-Core APU
4GB RAM DDR3 1600mhz
Gráficos integrados AMD Radeon™ HD 8330, DX11.1, PS5.0
Disco Duro Sata de 500GB 2.5" 7200rpm.
Lector/Grabador de DVD Sata.
Lector de tarjetas 5 en 1 + bluetooth.
Realtek Gigabit LAN
Audio 7.1 CH HD con protección de contenido (Realtek ALC892 Audio Codec)
WLAN : 1 x 802.11n Module, 1 x Antena ASRock WiFi 2.4GHz
Fuente de alimentación mini itx interna 12v 12.5a DC-DC de 150 Watts que requiere un transformador externo. Yo he utilizado uno que tenía de una Xbox360. Podéis ver una guía de como lo he adaptado.
Software:
Windows 10 Technical Preview 64 bits en Español.
C64 Forever (emulador de Commodore 64 que incluye roms de los videojuegos de C64).
Diying Light.
Deus Ex Human Revolution.
DeadLight.
Fotos y vídeo del proceso de construcción y adaptación:
Video demostrativo sobre el funcionamiento:
Espero que os haya gustado ;)
Saludos.